Veronica's Blog
Posting our SIZZLE REEL - Looking back &
Propelling forward.
NIÁGARA — A Pan-American Story climaxed a magical week of performances following our World Premiere on July 23rd, with two shows on the closing day of the PANAMANIA and the Pan Am Games in Toronto on July 26th 2015. It has been such a pleasure to work with talented editor, Tim Kirkwood on creating our SIZZLE REEL to post and share. We have distilled the footage - shot live in the Ada Slaight Hall at Daniels Spectrum – to 4 minutes. I salute our passionately committed performers; René Millán and Paula Rivera, along with Brent Carver and John Gzowski - and the supreme creative team - Astrid Janson, Cameron Davis, Jock Munro, and our brilliant playwright, Guillermo Verdecchia. A cheer too, to Keith Ellis.


Thanks and kudos must go to Producers, Peter W. Lamb, Leslie Haller, Peter Gentile and SOULPEPPER; and - to all Contributors, Sponsors and Audiences.

Check us out and please post it - far and wide!

MUCHAS GRACIAS a TODOS!
Veronica
Link: http://www.niagarapoem.ca/sizzle-reel.html
Cuban poet inspires new drama – Niágara — A Pan-American Story
By Marcel Sangsari, Guest Blogger
A gripping new drama directed by Veronica Tennant, Niágara — A Pan-American Story, takes centre stage this week at Panamamia, the Games' arts and cultural festival.

Commissioned as one of 28 world premieres at the Games, Niágara tells the poignant true-life story of José María Heredia who, as a 20-year-old exile from Cuba, penned a passionate poem about Niagara Falls immediately immortalized him in his country and across the Americas.

"Amazing torrent," wrote Heredia in 1824. "How the sight of you confounds my spirit, filling me with terror and wonder!"

"It's the spirit of Heredia who will never leave," says Tennant, renowned Canadian ballerina and film director. "As long as the Falls exist he'll be there."

Heredia's poetry — conveying themes of independence, freedom for indigenous peoples and slaves, and the natural wonders of earth — is still widely read throughout Latin America. So much so that the first stop for many Cubans visiting Canada is Niagara Falls, according to Tennant.

"In Cuba you just have to say 'Heredia' or 'Niagara' and they say, 'Oh, yes!' and it's of such importance," says Tennant.

Now, the romantic poet's words come alive in this creative fusion of dance, music, and drama. It's a story as much about Heredia's struggles — fighting for Cuban independence from Spain and leaving the love of his life behind — as it is of his wish to unite the people of the Americas.

And there's no better stage for the performance than during the Pan-Am Games, where athletes are forging new friendships with peers from the Americas.

Niagara gives us hope for a more unified Americas, where people and countries get to know each other better, according to Keith Ellis, a professor emeritus of Latin American Literature at the University of Toronto. Tennant's idea to re-imagine Heredia's story on-stage came from speaking with Ellis and reading the latter's book on Heredia's poem.

"Heredia's a man of tremendous reach," says Ellis. "He wrote representing the natural characteristics of the Americas, … with an understanding that with independence [Latin America] should be closer together."

And it was Heredia's ideas on the identity of a post-independence 'Americas' that led José Martí, Cuba's literary giant and national leader, to call Heredia the 'First Poet of the Americas,' according to Ellis.

On set, Tennant has tapped a star-studded team to bring the story of Heredia and the wonders of the Falls to life. Her multi-award-winning team includes script-writer Guillermo Verdecchia, set-designer Astrid Janson, and composer and sound designer John Gzowski.

The on-stage cast features the talents of René Millán and Paula Rivera — both with Mexican roots — and the voice of Brent Carver highlighting the soundscape.

It's a lively, multi-dimensional experience, with captivating imagery and sound, and Heredia's story moving forward and backward through time.

The clash of Heredia's sword marks his fight for independence, the powerful torrent of Niagara's crashing water can be felt in another scene, and Latin American rhythms lighten yet another.

Millan and Rivera form a powerful duo, playfully and dramatically performing in both English and Spanish. Millan evokes the intensity and courage of Heredia through his techniques and physicality. And Rivera's graceful movements and theatrical performance are to watch for.

"They're just mesmerizing," says Tennant. "[They] … bring these characters into such dimension and strength."

Meanwhile, the poet's mix of raw emotions from having to abandon Cuba find their communion in the rushing Niagara Falls, which were far more dangerous and untamed at the time of his writing.

At the height of the Latin American wars of independence, Heredia spoke out against slavery and was forced into exile from Cuba in 1824.

The poet-revolutionary travelled from his new home in New York to the Falls and was struck by its awesome power and magnitude.

He composed the epic Niagara on the edge of an enormous precipice on the Canadian side of the Falls, where today an honorary plaque pays homage to the revolutionary.

Tennant hopes Niagara will inspire people to experience the Falls the way Heredia did 200 years ago.

"I would like anyone that comes … [who] experiences the intensity of how he describes Niagara Falls to see it in a completely different light from before," says Tennant. "It is such a great wonder of nature."
Original Post: http://marcelsangsari.com/2015/07/23/cuban-poet-inspires-new-drama-niagara-a-pan-american-story/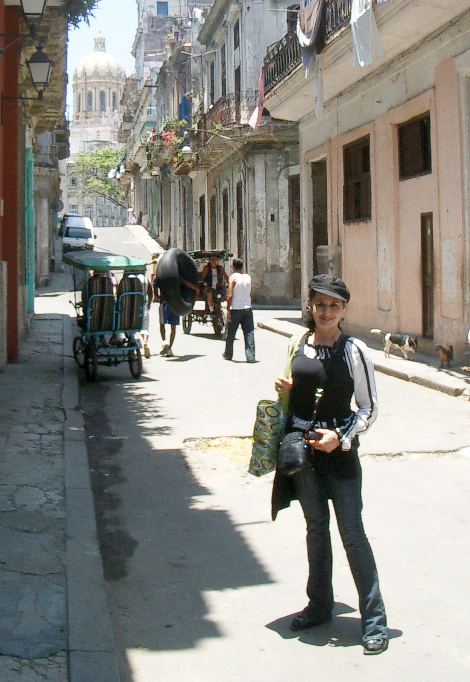 May 19, 2015 - Havana!

Hola! - This is my first installment of Veronica's weblog. And so it is fitting to go back to the beginning to trace and salute the remarkable collaborations which have brought my passion project to the exciting production stage we are in now.

Thank you KEITH ELLIS! You provided the first inspiration for this dramatic re-creation of José María Heredia, First Poet of the Americas, with your beautiful book, José María Heredia and NIAGARA FALLS which you compiled, edited, translated with commentary and notes in 2010. (see Keith Ellis in ABOUT on website menu)

— And —

Thank you NIAGARA PARKS COMMISSION! You are integral to the creation of a theatrical dreamscape — NIÁGARA — A Pan-American Story where our audience will share in our imagination of the Falls almost 200 years ago, inspiring a young poet to write a seminal poem connecting Cuban and Canadian culture to this day.

In 2011 I met Keith Ellis distinguished Professor Emeritus of Latin American Studies at University of Toronto

— And —


Simultaneously, Carlos Alberto Cremata the artistic director of LA COLMENITA (the Beehive) brought his Cuban Children's theatre company with 19 young performers aged 6-19, who gave a performance in Toronto for which they asked me to give an onstage introduction. We each are fellow ambassadors for UNICEF in Cuba and Canada.
The next day we travelled by bus to Niagara Falls. This is a must for all Cubans when they come to North America. It was an extraordinary experience! Keith spoke movingly in front of the plaque of Heredia which is imbedded in the wall face of Table Rock where José María sat and wrote his ode to Niagara in 1824 at the age of 20. And the Children — on a cue from Carlos — voiced one by one the poem they all had read in Cuba facing the Niagara Falls that José María had witnessed 200 years ago.

That day I also met Janice Thomson the Chair of the Niagara Parks Commission and so our close relationship and collaborations with the Niagara Parks Commission began. We have paid many visits to Oak Hall which houses an unequalled collection of paintings and lithographs of Niagara Falls it is such a joy to visit. And this is my opportunity to acknowledge and thank John Lohuis General Manager, and David Adames, Senior Director, Business Development The Niagara Parks Commission.

John, David together with Jim Hill Superintendant of Heritage, and Ruth Stoner, Librarian/Archivist have been unstinting in opening their facilities to deepen our theatrical interpretation of young José María' Heredia's experience in 1824. We've enjoyed fascinating research trips with our designers and cast — awed by seeing the Falls anew - and by their enthusiasm and wealth of knowledge about the history and legends that are so resonate today.

David even made it possible for John Gzowski our Sound Designer and Brent Carver who provides a vocal interpretation in NIÁGARA — A Pan-American Story to visit the Journey Behind the Falls just last week with microphones to record the crashing sound of water and Brent's sonic voice for texture in our soundscape.

And speaking of Gzowski, this is a name that adorns the only other plaque besides José María Heredia's along the banks of Niagara River. John just happens to be the great great great Grandson of Sir Casimir Gzowski — the first Chair of the Niagara Parks Commission — who was instrumental in making the surrounding grounds — a provincial park.

Updates to come very soon!
Veronica
---